WHAT IS SERIENETT? (31.01.06 )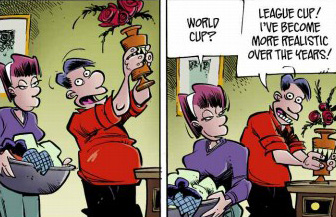 Serienett is Norway's only regularly updated source on comic book news. The site is run by Trond Sätre, taking over from Kristian Hellesund as of January 2013, and give you the latest news about Norwegian comic publications and events. You will also find reviews, information about comics crossing over with other media, and background information about the Norwegian comics community. We celebrated our fifth anniversary in 2011, with the publication of an anniversary journal, "Norsk Seriefokus".
From 2006 to 2013, Serienett was run by the publisher Laksevåg Forlag. The publishing company is also behind the countrywide Serietreff events. The arrangements are regularly arranged around Norway, and are highlighted by debates and sometimes important announcements.
As Serienett is an website for Norwegian readers, about comic book affair relevant to Norway, it's mostly in Norwegian. We use both forms of Norwegian (Bokmål and Nynorsk). However, we also allow material in foreign languages that most Norwegian readers are able to understand reasonably well – meaning Swedish, Danish and English. We don't typically translate articles from Norwegian to English as we do not have the time and manpower.
However, for the convenience of foreign visitors who understand English, but not Norwegian, we have the pleasure of offering you a list of links to English-language sites about Norwegian comics. This might be expaned upon later.
Update 14/5/12: In a more recent development, I have established an English language Serienett blog.
If you have any tips, suggestions or questions, please address them to:
Serienett, c/oTrond Sätre, Kalfarveien 80, 5022 Bergen, Norway
E-mail: trosetre@frisurf.no
LINKS
Norwegian comics with English websites:
Nemi
Radio Gaga
Norwegian web comics in English
Complete list for the website Nettserier
Cute N Spicy
Grapple Seed
Peer Gynt Comics
Optipess
Übersteffen
Syndicates:
Strand Comics
Samples:
Pondus
Square One
Publishers:
Dongery
Jippi
No Comprendo
Artists' websites:
Cathrine Catya Alvheim
Martin Ernstsen
Flu Hartberg
Kim Holm
Håvard Johansen
Øystein Runde
Sveen & Emberland
Tomte
Karstein Volle
Articles of interest:
USAToday on The Urban Legend

SERIENETT ANMELDER DANSKE TEGNESERIER <- Eldre | Nyere -> I ANDIE TONGS VERDEN

Siste kommentarer