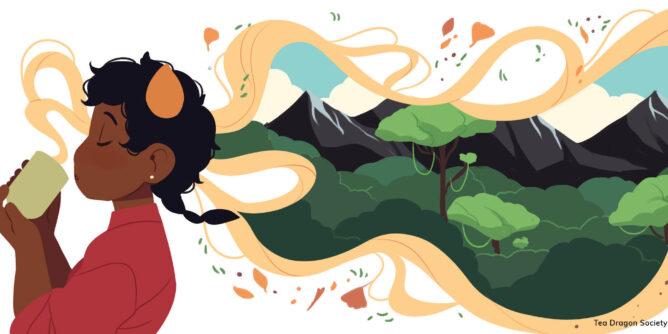 K O'Neill's greatest hope as a storyteller is that their readers will come back to their books over and over and find something new to take away each time. This non-binary New Zealander comics creator is getting two books published in Norwegian in 2021.
The artst was known as Katie O'Neill until December 2020, when they announced on Twitter that they henceforth wish to be known as Kay, and to be referred to by gender neutral nouns.
In June, the queer fantasy/fairy tale "Princess Princess Ever After" was the first work by Kay ever to be published in Norway. It's about both the message and the story, they say:
-Because this was my first comic longer than 10 pages or so, I wanted it to be full of jokes and adventure and interesting moments to keep readers entertained, but the characters themselves are the ones who carry the messages I want to get across. Sometimes it's through their actions, or in conversation in the quieter moments. I think it's impossible to tell a story without communicating a message about your values or what's important to you, it shows through whether you're trying or not.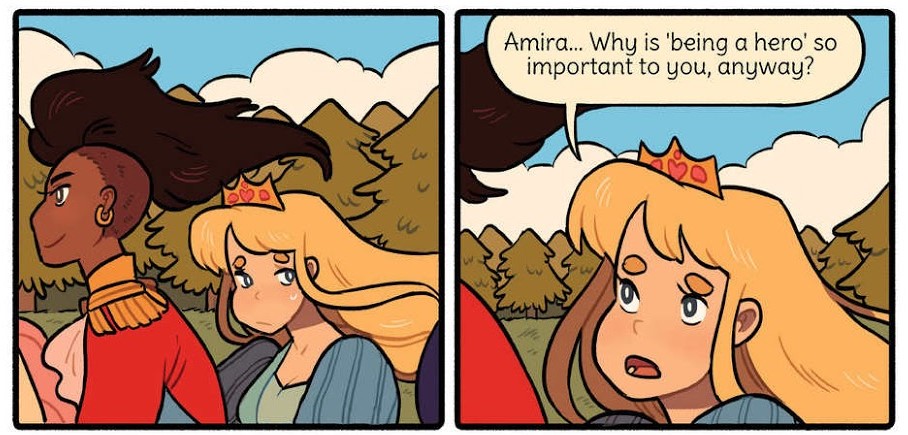 It's the most cartoony of their books, inspired a lot by Japanese romance manga, gag comics and takes a lot of its humour and story beats from Western cartoons that Kay watched growing up.
Their best known comic would probably be "The Tea Dragon Society", which was released in Norwegian this September. The story is centered around the young blacksmith apprentice Greta, who saves a mysterious little creture from predators. This creature is a tea dragon named Jasmine. Through Jasmine, Greta is introduced to the Tea Dragon Socitey, and learns about the dying art of tea dragon care.
Compared to "Princess", "The Tea Dragon Society" is a slower paced, gentler comic that has fewer gags, and is built around the characters and their interactions. There's also more world-building involved, with a more specific sense of the lore and magical creatures who inhabit this place, whereas «Princess Princess Ever After» was short and spoofy, so it suited a more generic fantasy setting.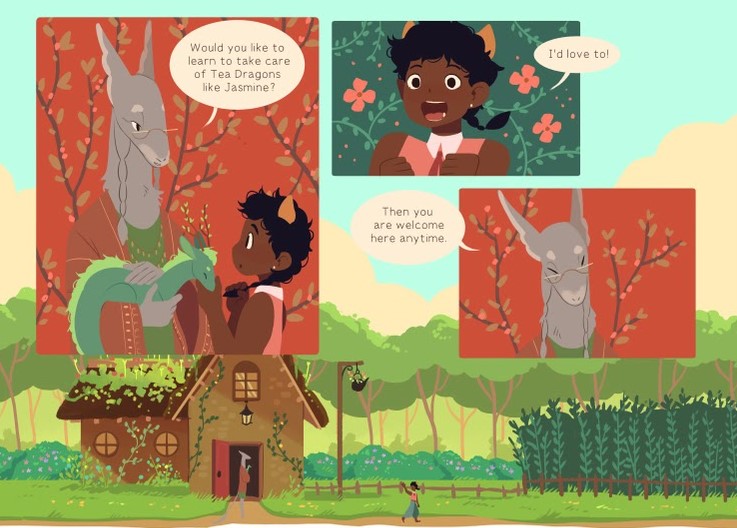 Other works by K. O'Neill include "Aquicorn Cove" (2018), the two tea Dragon sequels "Tea Dragon festival" (2019) and being published this summer, "Tea Dragon Tapestry". Their previous book was "Dewdrop", which at first glance appears to be aimed at younger children. It's intended to be suitable for early readers, Kay admits. – In some ways it's a little closer to "Princess Princess Ever After" due to it being full of jokes and moving quite quickly, but the characters and dialogue are much simpler and more straightforward. Kay wanted to create a book about a cute character who embodies the concept of mindfulness in a way that children could understand by seeing them interact with others, without directly telling them about it.
At first, Kay wasn't actually ready to do a sequel to "Tea Dragon Society", which is why they made made «Aquicorn Cove» first. However, during that time, the characters and world naturally drew them back, and they knew they had more they wanted to say. Kay loves book series that show characters at different stages of life, so they wanted to achieve that as well.

Many of the world's greatest storytellers "for children" have stated that it's not their intention to write for children exclusively. When it comes to their own books, what is Kay's stance on this?
-I believe any story that can appeal to children can also appeal to teens and adults. I try to think of ways that a book could have more meaning and significance if someone read it when they were 7, again at 12, again at 15, again as a grown up. If they could come back to a book over and over and find something new to take away each time, that would be the greatest achievement for me.